Jurassic World: Dominion Dominates Fandom Wikis - The Loop
Play Sound
The Power Stones (パワーストーン Pawā Sutōn) are seven legendary stones that hold mysterious powers. A person that obtains three Power Stones can use Power Change, transforming into a powerful form for a limited time. In this form, the user is able to use Power Drive and Power Fusion attacks. Power Drive is the standard attack from the transformation. Power Fusion attacks are more powerful, but consume transformation energy and can be used only a few times.
Aside from the seven Power Stones, the first Power Stone game has a large Power Stone in Avalon Is. that has the power to make any wish come true, and in Power Stone 2 there is another large Power Stone in Dr. Erode's possession.
The size of the large Power Stone in the first game is inconsistent in some endings, appearing big in some images and able to fit in one's hand in others. However, it is possible that its size can change.
Anime
[
]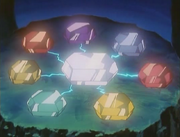 In the anime, only one Power Stone is needed to use Power Change. The user cannot transform with a different stone after using one, thus each character has their own Power Stone.
Like the games, there are seven Power Stones, with the additions of the Light Stone that appears when the seven Power Stones are together, the Dark Stone used by Valgas that is destroyed in the last episode, and several small black stones used by Valgas' Team that vanish when the user is defeated.
Power Stone
User

Red
From Sun Land.

Orange

Rouge
Has fire properties and the power to see the future. From Fire Land.

Yellow

Ryoma
Has electrical properties. From Moon Land.

Green

Wang-Tang
From Wood Land.

Blue
Has the power to control water and aquatic creatures. From Aqua Land.

Violet

Galuda
From Soil Land.

Gold

Gunrock
Has the power to bring fortune. From Gold Land.

White (Light Stone)

Falcon
Only appears when the seven Power Stones are combined.

Black (Dark Stone)

Valgas
From Dark Land.

Black (small)

Various
A small Power Stone attached to the back of the user's neck, giving Valgas control over them and allowing the user to transform into a monster. If the person is defeated, the Power Stone will be released from the neck and vanish, freeing the user. The person will not remember anything that had happened while under the stone's influence.
Gallery
[
]